SALES & MARKETING TOOLS

FOR EARTHQUAKE INSURANCE PRODUCERS
Earthquake Insurance Marketing

Resource Center



All of the marketing materials you need to help you sell more earthquake insurance are available to download here: brochures, postcards, flyers and more.
You can use these files as-is, customize them on your own, or you can contact a marketing expert in your area to request custom branded files for your agency.
Sell More Earthquake Insurance
All of our creative templates are available for your agency to use as-is, or can be used as inspiration for your own unique messaging. You can also contact a marketing manager in your area to inquire about co-branded campaigns. Choose a campaign to get started:
EARTHQUAKE INSURANCE AWARENESS
Earthquake Insurance Awareness Campaign
Download these postcard and flyer files to use as-is, or contact a marketing expert in your area to request custom files branded for your agency.
Single Limit Product Campaign
You can include these files when sending a GeoVera Single Limit quote option to your client.

Available in:
California

Oregon

Washington
Split Limit Product Campaign
You can include these files when sending a Coastal Select Split Limit quote option to your client.
Available in:
We will provide branded images and headlines for your social media campaigns to go with your unique earthquake quoting link.
Optimized for Facebook, Instagram, LinkedIn, NextDoor or wherever you connect with your customers and leads best, we'll give you the creative tools you need to spread the word about earthquake insurance.
Contact your Regional Sales Leader to request personalized images.
GET INSPIRED TO SELL EARTHQUAKE INSURANCE
We've used these headlines and captions on our own marketing campaigns with successful results. You can copy this content to use in your own campaigns.
HEADLINES:
Take control of your financial security today.

If you own more than you owe, you need earthquake insurance.

Is your equity protected from earthquakes?
CAPTIONS:
You want to protect your greatest investment from one of its greatest risks: earthquake damage.
See how earthquake insurance can help you secure your equity and peace of mind.
Can you afford to lose your hard-earned equity in seconds? Your current insurance coverage may not be enough.
Read more to learn if earthquake insurance is a good fit for you and your family.
You've spent years building equity in your home. Don't risk losing it to earthquake damage.
Get a free earthquake quote to see if coverage is your solution for the future.
Your equity is covered for theft, wind, and fire damage. Why not earthquakes?
Take a moment to learn how earthquake insurance can keep your home equity safe for the future.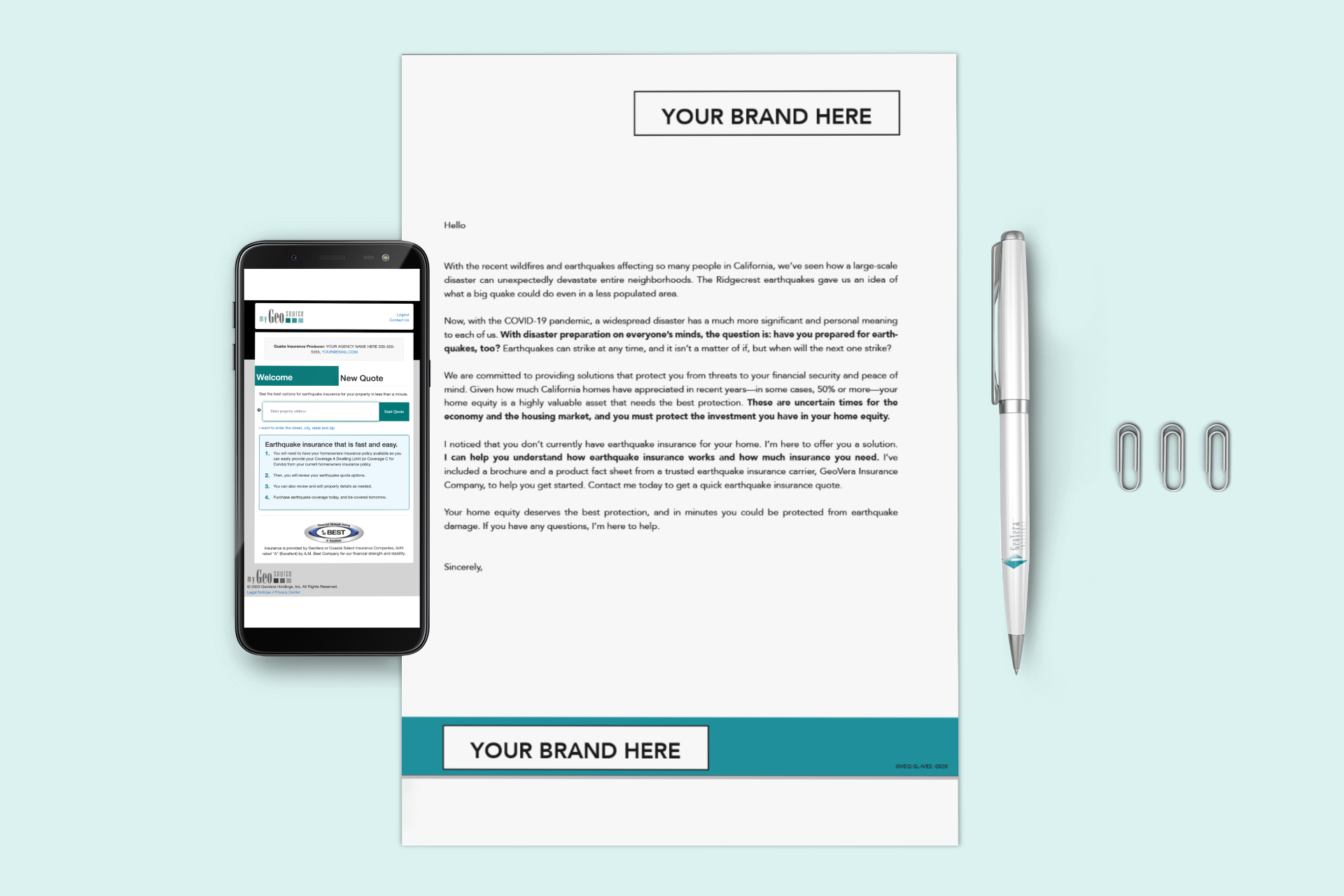 Sample Content for Emails & Sales Letters
Scroll down to view the sample content you can use in your emails and sales letters. Copy and paste this content, then customize it for your agency. Email us if you need help.
GET INSPIRED TO SELL EARTHQUAKE INSURANCE
Dear [First Name],
With the recent wildfires and earthquakes affecting so many people in California, we've seen how a large-scale disaster can unexpectedly devastate entire neighborhoods. The Ridgecrest earthquakes gave us an idea of what a big quake could do even in a less populated area.
Now, with the COVID-19 pandemic, a widespread disaster has a much more significant and personal meaning to each of us. With disaster preparation on everyone's minds, the question is: have you prepared for earthquakes, too? Earthquakes can strike at any time, and it isn't a matter of if, but when will the next one strike?
We are committed to providing solutions that protect you from threats to your financial security and peace of mind. Given how much California homes have appreciated in recent years—in some cases, 50% or more—your home equity is a highly valuable asset that needs the best protection. These are uncertain times for the economy and the housing market, and you must protect the investment you have in your home equity.
I noticed that you don't currently have earthquake insurance for your home. I'm here to offer you a solution. I can help you understand how earthquake insurance works and how much insurance you need. I've included a brochure and a product fact sheet from a trusted earthquake insurance carrier, GeoVera Insurance Company, to help you get started. Contact me today to get a quick earthquake insurance quote.
Your home equity deserves the best protection, and in minutes you could be protected from earthquake damage. If you have any questions, I'm here to help.
Your earthquake insurance agent:
[agent name]
[agent email]
[agent phone number]
[agent website]
Dear [First Name],
Your home is your greatest financial asset, and your homeowners insurance policy doesn't protect it from all risks. Earthquakes can be a costly and devastating risk to your security. An earthquake insurance policy can offer peace of mind and fill in the gaps your homeowners policy can't cover.

We feel confident offering an earthquake insurance policy from GeoVera Insurance Company as the smart choice to protect your equity. All it takes is a free, no-obligation online quote to get started.
To start your quote, visit our agency's earthquake quoting link below:
www.quakeinsurance.com/YourProducerCode
GeoVera is managed by GeoVera Holdings, Inc. and is a leading provider of residential earthquake insurance coverage in California. With over 20 years of claims experience and a consistent "A" (Excellent) rating by A.M. Best Company, GeoVera is the proven and reliable insurance carrier to protect your home and your life.
Contact us for expert advice about earthquake insurance.
We encourage you to call or email us to customize your coverage options. As your insurance agency, we can provide personalized insights specific to your needs to make sure your earthquake coverage is right for you.

Your earthquake insurance agent:
[agent name]
[agent email]
[agent phone number]
[agent website]
OUR CONTENT IS YOUR CONTENT
Make sure you subscribe to our Quakeblog, so that you always get the latest content that you can customize and share with your own clients and on your social media. Example blog posts are linked below. You can copy and paste content from our blog, and add your own call to action.